Easy. Casual. No hassle. Great pre-wedding day communication and follow up. Beautifully handled and well spoken. – (Yelp!)
Meet the Wedding Chaplains
Meet the fun couple behind Elope to Oceanside™ that help couples Elope San Diego Style at one of California's most historic beaches!
Rev. Christopher and Chaplain Mary are a Husband and Wife that are focused on making your elopement ceremony everything it should be without the high costs associated with other ceremony services in the area. Blessed by their calling in life, their excitement in marriage and most importantly, being a couple in Love shows in every ceremony they present. "Happy", "Lighthearted" and "Joyful" are just a few words to describe the type of ceremony they are part of. Whether a civil type ceremony, spiritual or religious, they focus on their couples without any judgement or personal agenda. The best part of serving as a Chaplain? Being able to serve couples of all faiths and beliefs without Judgement or personal agenda!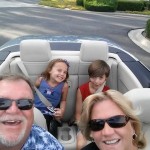 When they're not providing their ceremonies for full service weddings at one of San Diego's premiere Wedding venues, elopements on Coronado or other San Diego locations, vow renewals or, their Military Mondays philanthropic outreach. You'll find them grabbing their Grandchildren and running off to some crazy places to keep them fun and young at heart!